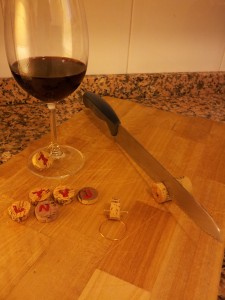 This project takes just about 20 minutes to complete and you will have fun serving guests with personalized glass charms. Give it a go, they'll say, "you're sooo crafty"!
soak corks in hot water for about 10 minutes, this will make it easy to cut them without crumbling
cut disks from the corks in somewhat even widths (about 1/4 inch)
use a nail to make a hole in the top middle part of the disk
paint an initial on the disk
insert the earring hoop through the hole
That's it! This is so quick and so cute, there is just no excuse not to do it!
You can find the earring hoops at Michaels or any beading or diy shop, or you can get them on etsy, here.