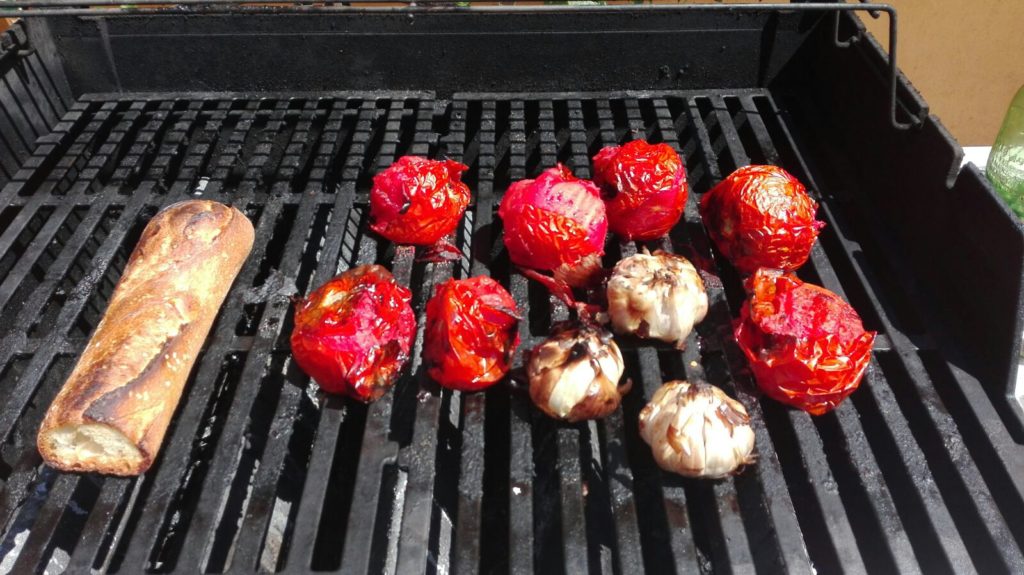 Ingredients
5 tomatoes
2 heads of garlic
toasted bread (6 slices French Baguette)
4 dried Ñoras (Spanish peppers)
1 cup olive oil
¼ cup sherry vinegar
½ cup slivered almonds
½ a fresh Cayenne pepper (or to taste)
¼ teaspoon sea salt
Instructions
Soak the Ñoras in water for 3 or 4 hours until soft, then remove seeds.
Grill the tomatoes and whole head of garlic until a little burnt on the sides, let cool.
Toast the bread on the grill or toaster and soak in water until soft.
Toast the slivered almonds in the oven or stovetop.
Peel the skin from the tomatoes and garlic and put into the Cuisinart.
Add the Ñoras and almonds to the Cuisinart.
Squeeze the water out of the bread and add to the mixture in the Cuisinart.
Add the pepper, olive oil, vinegar and salt.
Blend everything together until smooth.
If too runny, add more bread; if too thick, add more olive oil. It should have the consistency of mayonnaise.
Notes
You can find the Ñoras (Spanish peppers) on line at Spanish specialty food stores such as The Spanish Table or La Tienda.com. They keep forever, so don't worry if you can't use them all up!